Jan

16

2012
A summary of the 1911 Vanderbilt Cup Race from taurtoisemotorsports.com with Savannah crowd photos and Lozier victory photo courtesy of Paul Osika
1911 Vanderbilt Cup Race
Racing returned to Savannah in November, 1911. The Vanderbilt Cup and the Grand Prize were to be held within three days of each other. Savannah welcomed the racers, holding lavish parties and improving the circuit that AAA's Fred Wagner called, "the finest road course in the world." More banking was added to the turns, and the course was straightened and widened where possible. American road racing had found its home.
For all the excitement, only fourteen teams started the Vanderbilt Cup. Several manufacturers, including Cup winner Alco, were leaving racing to devote more resources to production. National and Simplex were among automakers content to focus their efforts on oval track racing.
America's stars still attended, driving updated American cars with less than 600 cubic inches. Ralph Mulford and Harry Grant, dressed in bright white sweaters, returned with nearly stock white 51 hp Loziers. Marmon sent its ace team of Cyrus Patschke and Bob Burman. Hughie Hughes brought a fascinating 300 cid machine from Mercer.
Fiat sent their factory team of David Bruce-Brown, Ed Parker, and Joe Matson. Two famous Mercedes were wheeled by Spencer Wishart and Ralph DePalma. In practice, Matson showed how quick the track was, turning a lap at 77 mph.
It was a beautiful day for a motorcar race when Grant pulled away before a crowd estimated at 100,000. He was first to return, but DePalma had fast time, with Patschke eight seconds behind. Wishart's white beast, Mulford, Matson and Parker were all within twenty-four seconds of the leader. Matson had to pit for water; He'd drop out by lap 5. Parker pitted, showing the Fiats' tattered tires at this pace. After 4 laps, DePalma maintained his 77 mph pace, a minute ahead of Wishart and Mulford. Burman and Bruce-Brown were another minute down.
As Ray Harroun had learned at Indianapolis, American racing tires, in 1911, wore prematurely at speeds above 75 mph, even on the best surfaces. At lap 5, 86 miles, DePalma lost two tires, and two minutes replacing them. Wishart also had damaged tires and a long pit stop. Driving a patient 75, Mulford's Lozier was a minute ahead of Burman, DePalma, Bruce-Brown and Wishart, until Bruce-Brown's wheel snapped. On lap 8, just short of halfway, Wild Bob Burman's Marmon overheated. A rock had poked a hole in the radiator.
DePalma continued to run the quickest laps, but had to come in for tires again. On lap 11, Wishart lost nine minutes changing a tire, while Smilin' Ralph Mulford continued clicking off laps in thirteen minutes. With 4 left, and a five minute lead, Mulford finally stopped for tires, gas and water. The crew was practiced and returned the Lozier to the lead in 1:06.
DePalma was flying, gaining twenty seconds a lap. On lap 15, Mulford blew a tire, and pulled into the pit again. The crew calmly repaired the 5th tire in two circuits, and returned the Lozier to the track, again, in a minute. Mulford completed his leisurely ride through the countryside while DePalma's mighty "Grey Ghost" and Wishart's silver Mercedes chased futilely, pedal to the floor. The crowd erupted when Smilin' Ralph finished 2:11 ahead of DePalma, and nearly ten minutes in front of Wishart. Grant' s Lozier was 4th, followed by Parker and Louis Disbrow's Pope-Hartford. Plagued by tire problems, the Fiats hadn't contended for the front all day. Mulford held the lead from lap 5 through 17.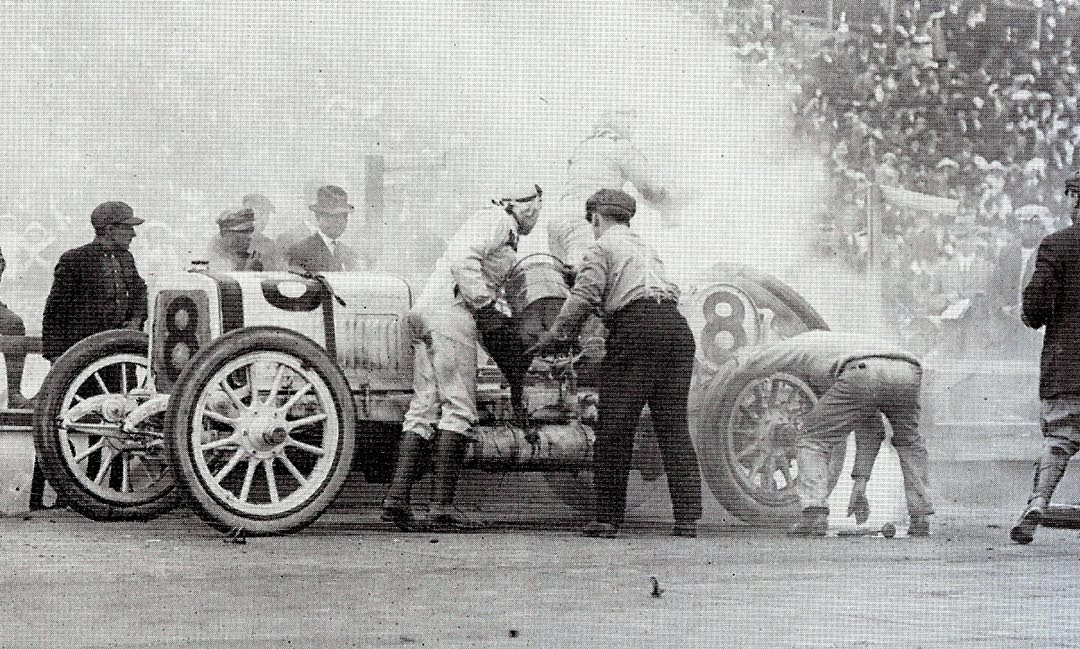 Nevertheless, it was a popular finish. The Lozier was basically a "stock car" with the fenders removed, meaning anyone could buy one from a dealership. The engine, transmission, suspension, steering and brakes were stock. What the crowd didn't know is that every single part was disassembled, inspected, cleaned and polished, tested, disassembled, and inspected again. The Lozier team was carefully prepared to take the Vanderbilt Cup.
The crowd didn't care. An American stock car had defeated Europe's mightiest purpose-built racing machines. Driving at nearly constant speed and babying his tires, Mulford covered the 291 miles at an average of 74.07 mph, missing a world record by just a few tenths.
Links to related posts on VanderbiltCupRaces.com
Archives: 1911 Vanderbilt Cup Race

Index: Archives on VanderbiltCupRaces.com